Battlestar Galactica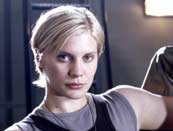 Review: Starbuck's secret is out in Act of Contrition.
When a terrible accident on the hangar deck decimates Galactica's flight crew, Starbuck must train new recruits to take their place. But will her guilt over Zak's death cloud her judgement?
Not much to laugh about in this episode, but much to celebrate as 24 With Space Ships continues on its mission to run away from the scary aliens as fast as possible.
Act of Contrition will surely go down as the episode where people stop worrying that Starbuck has become a lady, and relish the joy of Katee Sackhoff's splendid performance as the wisecracking, cigar chomping pilot with a terrible secret. Her scenes with Adama are heart-wrenching as she admits her involvement in his son's death. Edward James Olmos, who wrote the book on moody scowling back in his Miami Vice days, is the perfect foil for Sackhoff's not-so-hard Starbuck too.
The only disappointment this week is the increasingly baffling Helo subplot. He's still wandering around Caprica with the Cylon replicant of Boomer and has now managed to find a radio and possibly some snacks. I really can't see where this is going, as the rest of the cast are now in a galaxy far, far way, but perhaps the writers will surprise us.
It's also a shame that there's also precious little quality squirming from the marvellous Baltar, who is rapidly becoming Galactica's equivalent of Lost in Space's Doctor Smith. Oh, the pain.
The episode is beautifully punctuated with a stunning repeated sequence in which Starbuck is shot down during a dogfight. At first, you aren't sure if this is a flashback, a dream, or something that's to come. As it turns out, it becomes an impressive cliffhanger to probably the best episode of the series so far.
With her Viper destroyed in a dogfight, Starbuck seemingly plummets to her death in the atmosphere of a hostile planet. Let's hope she's wearing asbestos pants, as re-entry can really chafe. I haven't been more frustrated or excited to see the caption "To be continued" appear for a long, long time. Roll on next week's (hopefully) thrilling conclusion.
---
---