Roundabout recast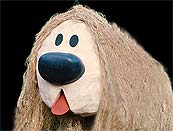 Stars dropped from US version of film remake.
According to a snippet of news in the Daily Mail, both Robbie Williams and Kylie Minogue have had the indignity of having their parts in The Magic Roundabout redubbed for American audiences.
An all-star cast voice the CGI remake, including Robbie as Dougal and Kylie as Florence. But the Mail report says that their lack of fame in the States has meant the popsters have been dropped in favour of more US-friendly names.
Kylie has been replaced by teen sensation Hilary Duff (Who? Ed) but there is no news on who will replace Robbie.
Lets hope Tom Baker, Jim Broadbent and Joanna Lumley don't suffer a similar fate.
---
---