Mad Mad House 9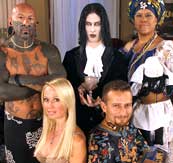 Review: The penultimate show keeps two contestants hanging on.
We're down to the last three contestants this episode, and all of the trio have their sights firmly set on that $100,000 reward. Love, peace and spiritual growth aren't really getting a look in anymore.
Let's take a look at who's left and just how they made it so far. First off, we have Eric, a fluffy-wuffy ball of fun who's also a heartless Machiavellian manipulator. So far he's done well, by shamelessly sucking up to Fiona while slagging off his rivals (i.e. everyone) all the time. Amusingly, this activity has won over Don, who appreciates a proper cad.
Then there's Jamie, a sweet little exotic dancer who's genuinely tried to change her life by following the Alts' bonkers advice. She's liked by all, and should stand a good chance, but she's absolutey rubbish at trials. Being taken under Ta'Shia's wing has helped her self-confidence.
Finally, we have Nicole, a supremely self-assured teen beauty queen who never, ever shuts up. She's used to winning, and she's sort of won over Art and Avocado, but her constant prattle has put off Fiona, and Don hated her from the start.
With one of them due to be handed the Mad Mad House equivalent of a consolation prize pencil, the contestants were already nervous about the trial. When Art showed them some meathooks, they were terrified.
Sadly, the reality was a letdown - they stood on the hooks, rather than hanging from them, making it about as exciting as a school rope-climbing competition. Even that was too much for Eric, who pathetically fell off after 20-odd minutes.
And that was the end of our cheery conniver. His big girl's blouse performance tipped the scales against him, and he was voted out. So, next week - girl fight!
---
---