Dredd vs Alpha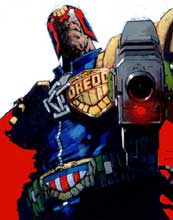 Review: Simon Pegg and Toby Longworth star in audio drama.
Big Finish's Johnny Alpha audio dramas were a wonderful (if short-lived) range. They had superb scripts by Jonathan Clements, suitably comic-book sound design, and, natch, a killer perfomance from Simon Pegg as the mutant bounty hunter.
One of the nicest things about working on this site has been getting the rights to make both plays available to listen to on demand (obvious link below).
Almost as nice is discovering that there's now a third adventure. And... it also stars Judge Dredd.
Frankly, what more could you want? The two heroes take a typically odd couple trek across a devastated minefield, trying to deactivate a missile silo, get home, and avoid killing each other.
Imagine The African Queen. But with more guns, and Pegg taking the Katharine Hepburn part. And you're kind of there.
There are wisecracks galore, serious debates about time travel and the ethics of warfare, quotes from rock songs, a Beckett parody, and a hilariously complicated sequence involving a long argument and a rocket.
Pegg and Longworth thrive on this giggly two-hander, the only slight distraction being poor Ian Hallard, who has to play all the other voices. In a ridiculous Fu Manchu accent which grates.
Hunt this CD down. You really will love it. And well done Mr Pegg for still doing this kind of thing.
---
---