Hex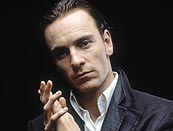 Revew: Baby blues in the season finale.
The news that ratings hit Hex has been a rating hit and will get a much longer second season must mean the show's producers are doing something right. Having watched all five episodes now, I'm not entirely sure what that is.
Christina Cole continues to impress as Cassie, whether she's playing a bad girl, cavorting with demons, or coping with the kind of high-speed teenage pregnancy you only get when you've been knocked up by a fallen angel. Definitely a star in the making.
After some initial resistance to her horrific dress sense, Jemima Rooper has also won me over with her scatty portrayal of ghostly Thelma, often wresting control of the show from Cole. The two actresses have developed a delightful onscreen repartee, which can only mature next year.
After weeks of lurking in the bushes, Michael Fassbender was finally given something substantial to work with as Angel wannabee Azazael. His brilliantly manipulative anti-abortion speech provided some much-needed oomph to the finale, and it's a real pity that he's been so underused up until now.
If the cast and the show's beautiful cinematography are Hex's high points, the show isn't perhaps so strong in other areas. Although its clearly not Buffy, it would be well-advised to take note of that show's approach to pacing.
Four and a half hours - with a slightly lacklustre denouement - was way too long to tell this kind of story in 2004. Maybe season two should adopt a monster-of-the-week policy to keep things moving with all the moody stuffy slowly percolating throughout its thirteen week run?
Nevertheless, Hex is a mature slice of TV fantasy and a deserved success that never talks down to its audience or shies away from adult topics. Just throw in a few more plotlines and the occasional rubber monster and we'll all be happy. British cult TV has grown up for the first time in quite a while.
---
---