Battlestar Galactica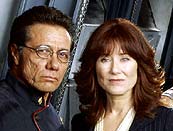 Review: Nice show, shame about the cliffhanger.
When Starbuck goes missing in action, Commander Adama and Apollo risk the welfare of the fleet to find her.
Let's get the silly bit out of the way first. After last week's stunning cliff-hanger, Starbuck escapes almost certain death from burning up in the atmosphere by parachuting to safety. It's an idea so daft that something similar was cut from the worst of the Star Trek films. Never mind.
With that out of the way, however, it's thrills and spills all the way as Kara battles to escape from the inhospitable moon before her oxygen runs out. Thankfully her Cylon opponent is also grounded, leading to an unexpected alliance.
It's not all Enemy Mine interspecies co-operation however, as we discover Cylon ships are a bit like Daleks - part machine, part big slimy blob, all fused together into a terrifying killing device.
Thus, Kara spends most of the episode hacking bits of it off with a penknife in order to access the ship's biomechanical systems. How she finds her new oxygen supply by interfacing with the creature really put me off my pasta, I can tell you.
Meanwhile, Adama and Apollo throw common sense out of the window to save their girl, causing some ugly spats with the President. She's not entirely pleased that the fleet is unguarded because of the intense search and rescue mission - and who can blame her?
Luckily a harmonious bonding between pilot and slimy blob allow Kara to pilot the Cylon vessel back to Galactica - and an inevitable dogfight with Apollo, who takes a while to realise who is behind the wheel. The word STARBUCK painted on in big yellow letters underneath the ship is a bit of a giveaway, however, and something of a cop-out as there really wasn't an opportunity for that spot of redecoration earlier.
Back on Caprica, a piece of toast almost gets Helo killed. But that's another story.
You Can't Go Home Again
---
---