Dec Trek releases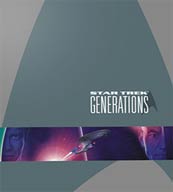 Details of The Original Series Season Three and Generations DVD sets.
The Trek DVD juggernaut rolls on with two new releases: The Original Series Season Three on 6 December, and a two-disc special edition of Star Trek: Generations on 20 December. So, that's Kirk bowing out twice over.
The Original Series release contains 26 episodes, plus the following extras:
Featurette: Collectable Trek
Featurette: To Boldly Goå Season 3
Featurette: Life Beyond Trek: Walter Koenig
James Doohan interview feature: Chief Engineer's Log
George Takei interview feature: Memoir from Mr Sulu
Featurette: Star Trek's Impact
Featurette:A Star Trek Collector's Dream Come True
Easter Eggs: Red Shirt Logs
The Generations release is even more stuffed with extras, rather like Shatner's corset in the film itself. These include:
Audio Commentary by Brannon Braga and Ron Moore
Text Commentary by Michael Okuda and Denise Okuda
Featurette: A tribute to Matt Jefferies
Featurette: The Enterprise Lineage
Featurette: Captain Picard's Family Album
Featurette: Creating 24th Century Weapons
Featurette: Uniting two legends
Featurette: Stellar cartography - creating the illusion
Featurette: Strange New Worlds: The Valley of Fire
Featurette: Inside ILM: Models and Miniatures
Featurette: Crashing the Enterprise
Scene deconstructions
Four deleted scenes
Storyboards
Production Gallery
Check back for reviews and competitions of both releases.
---
---