Star Cops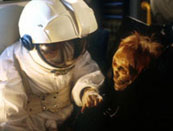 Review: the cops in space drama on DVD.
Star Cops was created by Chris Boucher. Until I saw him on the DVD documentary, I'd pictured him as the writer from Cruise of the Gods; bitter, gin-soaked and wretched. Instead he exudes a Buddhist-like tranquillity and exists in a state of perpetual slow motion, measuring out his words by the millimetre. It would take him a week to fall down the stairs.
Chris is renowned for writing one of the greatest television comedies of all time. But as well as Season 4 of Blake's 7, he also did episodes of Home James! and almost wrote a Rupert the Bear film for Paul McCartney.
One thought immediately occurs when watching Star Cops. 'Bloody hell, what a ghastly theme tune' - the work of the otherwise unimpeachable Tony Visconti. Space show themes should not have lyrics, it's one of The Space Show Rules. The end result is not exactly spacey, but it is terribly eighties.
Which kind of sums up Star Cops. It's not exactly spacey, but it is terribly eighties. Everyone wears shoulder pads and the sets resemble the foyer of Warwick University Arts Centre. What is surprising, though, is how jaw-droppingly gorgeous the special effects are. They are, for a BBC show, staggeringly competent.
The story is a little difficult to follow because there are several scenes where we are expected to follow the dialogue whilst having the camera rotate as half the cast swing about on wires. It's not that it's badly done, it's just distracting.
What is unusual about this show is that it is possibly the only example of a hard-sci-fi TV series. No little green men here. And, as an extrapolation of future trends, it's not bad, though like most futuristic shows it believes that in the future we will have TV screens everywhere - filling up walls, on tables, on watches. Everywhere except on actual tellies.
But the problem with hard sci-fi is that it lies at the nerdy, pedantic end of the sci-fi spectrum (a spectrum famed for its nerdy pedants).
I note that the crew of the Moon base are very international. It is another of The Space Show Rules that any crew – be it of base or spaceship – should be conspicuously multi-cultural. Which is fine, but it would be nice if, just for once, we could have a space ship crew that comprised solely of white middle-class males, for the sake of balance.
The main problem with Star Cops is not that it's hard sci-fi, but that it's supposed to be a murder mystery show. And that, as a murder mystery, it is dull and unsatisfactory. Computer analyses of statistical probabilities of space suit failure do not rank high in the league of sexy plot ideas.
Fortunately for the series, our hero Nathan Spring (David Calder), is a cop on the edge who doesn't follow computer analyses, he follows hunches, providing the series with some much-needed excitement. Not Cagney and Lacey excitement, but in terms of The Slow Motion World of Chris Boucher, it's edge-of-the-seat stuff.
by Jonathan Morris
---
---