Mad Mad House 10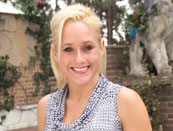 Review: Will the best woman win in the freaky finale?
With only two contestants - Nicole and Jamie - competing for the $100,000 prize, it was time to put them through the wringer. Instead, they were set five rites of passage by the five Alts which made the previous episodes' silly trials look like SAS training.
The girls listened politely as Don read from (apparently) the Bumper Book of Vampires, ate things while naked for Avocado (not as rude as it sounds), sat still with their eyes closed for Fiona (yawn), dragged skulls for Art (quite a hard one, this), then took part in some daft mummery for Ta'Shia (meaningless).
So far, so dull, but things perked up with the arrival of the previous evictees for dinner. This was great, as it meant all the interesting and nice people came back, and all the wind-up wingnuts like Kelly and Tim.
Within moments Tim was yelling, and blubbermouth Kelly sobbing and yowling incoherently that Ta'Shia was a "left wing democratic cry." I don't know what that is, but if Kelly dislikes it, I'm all for it.
On to the final eviction, which I accurately predicted would go to a "tense" draw until the final vote. Oh, what a surprise, that's only happened every time for the last four weeks. What I hadn't predicted was that Avocado would deliver his verdict on the girls in birthday card verse - surely such a horrific scene shouldn't have been broadcast without a warning?
In the end sweet little Jamie won. I was very glad of this - she deserved it, and, if we're to take this programme's premise seriously for a bit - born winner Nicole will learn and grow more from losing something for once.
So, what did we, the audience, learn from this show? Well, I think we can all be pretty sure that Art is either a member of, or gets his shirts sponsored by, the Church of Steel by now. You can eat aloe vera. Vampires have very large wardrobes indeed. Wiccans can be just as petty as the rest of us. And season two should be Alts-only for maximum firework potential.
---
---