Serenity delay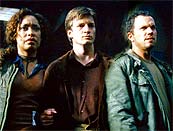 Joss Whedon announces that the Firefly film has been delayed
Posting on Whedonesque, a fan-run community weblog about his work, Joss Whedon said that American cinemagoers will have to wait a whole five months more for the Firefly movie to be released.
Explaining why the film has been put back to 20 September 2005, Joss said, "April got crowded with a lot of titles aimed at a similar demographic. The studio decided September was a clearer corridor for the film to make the kind of impact it should."
But fans needn't worry that there's a problem with the final cut.
"This isn't about a lack of confidence in the film... Actually, [the studio] dug it pretty large, which is a good sign since there's not a single finished effect in the film. There's no reworking the end, no reshoots, no 'does it have to be in space?'. It's just a marketing issue."
---
---