True Brit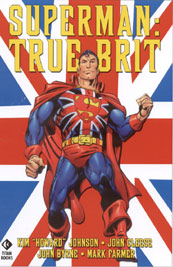 Review: John Cleese writes about a British Superman.
True Brit is that rare thing - a comic that the mainstream media can be bothered to notice. Not so much for the subject matter, but for the tale's celebrity author, former Python John Cleese.
This slender story tells how the baby Kal-El, last son of Krypton, crash lands in a field outside Weston-super-mare. Brought up by a humble couple, he's christened Colin Clarke and told to keep his powers hidden - something he manages until going to work as a reporter at tabloid paper The Daily Smear.
How much of True Brit is Cleese's work, and how much comes from American co-writer Kim "Howard" Johnson is a moot point. There's a strong American feel to much of the writing, with Britain coming over a bit sterotypical - bad teeth, cups of tea, late trains, cricket mad people and all the rest. There's also a crack at the BBC, but it's a pretty fair one so I can't complain.
That said, you can spot the Cleese contributions, and they're not bad. Colin worries about his skill at puns and innuendo whilst working at The Smear. His well-meaning gift of hundreds of diamonds serves only to destroy the coal industry, and a page three starlet draws bigger crowds than Superman. Good enough, but it often sits uneasily with Johnson's more Yankee-flavoured writing.
It's often waffly, and a decently ruthless editor would have done it good. One running joke in particular, about Colin's parents moving further and further away to avoid the embarrassment of their son, is immensely tiresome rather than funny.
Art-wise, this is superb, couldn't be better. Artists John Byrne and Mark Farmer have brought Colin and his Britain to life with a marvellous blend of the US muscular spandex style and the more whimsical British tradition. It's absolutely, utterly perfect for this comic. Look out for the penguin on top of the TV.
So, lovely to look at, enjoyable though rambling to read, and it gets comics in the news - nothing to object to here. It's just a shame that we have to rely on a celebrity vehicle, especially such an American-influenced one, to get comics noticed in Britain when there's so many excellent British comics writers out there.
---
---