Children of Dune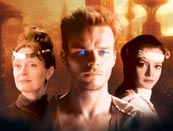 Review: Sand worms ahoy! It's a Sci Fi mini-series.
The Sci Fi Channel's ambitious retelling of the Dune saga was a worthy piece of sci fi, making for interesting - if a little slow - viewing. Children of Dune is virgin territory, and thus doesn't suffer from constant comparisons to the film version.
But while new director Greg Yaitanes has picked up the pace - and inserted somewhat more graphic and gratuitous sex scenes along the way - he's also made it a lot more arch. Camp, even. Children of Dune is basically Dynasty in Space.
It's nice to have most of the original cast back, and the new additions range from passable to good. Mad ol' Alia (Daniela Amavia) is good for a laugh as she plots the downfall of all and sundry thanks to the voices in her head, and Susan Sarandon seems to have just wandered in to water the plants and got caught by Wardrobe. She acts by glancing. In fact, they all act by glancing, thus:
Susan Sarandon: Schemey sideways looks.
Alice Krige: Caring yet imperial down-the-nose peeks.
Daniela Amavia: Mad-eyed loony staring.
James McAvoy & Jessica Brooks: overly-caring, slightly unnerving incestuous looks.
Oh, and Alec Newman plays a blind man this time around. But this doesn't stop him looking down his nose at everyone.
The effects are laudable, if sometimes repetitive, and the story rattles on at a breakneck pace. Sometimes to a fault - you have to pay good attention as decades can whiz by between scenes, leading to some of the worst aging make-up this side of French and Saunders.
The nastiest thing is the incidental music, which can sometimes sound like Enya's tripped over in the studio.
Sarandon is mostly wasted as she spends her time manipulating behind the scenes, pantomiming with steepled fingers throughout most of her appearances. Alec Newman adds huge weight to the scenes he's in by playing the fallen hero with finesse, harking back to the more worthy Dune mini series and leading to an odd contrast with the light-and-fluffy foam of the rest of the story.
But who cares when the boys are attractive and the hats are huge? And even glow in a couple of cases! The costumes are fab and there's a marvellous plot point that keeps rising star James McAvoy's top off for the whole of the third part. Splendid!
While Children of Dune is not as serious as Dune, it is far more entertaining. It's sci-fi you wouldn't mind watching with a big bowl of popcorn.
Lee Binding and Declan Cummins
---
---