Century City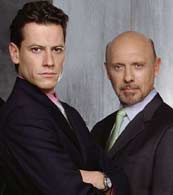 Review: Lawyers of the future drama.
Oh, how sorry were we when we realised we'd nearly missed this? Century City was a smart, sassy drama about LA Law in 2030. Naturally, it got swiftly cancelled, but the UK Sci Fi channel has been showing all nine episodes.
And it's corking stuff - silly and po-faced, but endlessly inventive. The cases are all fascinating extrapolations of current science - what if I want to abort my gay embryo? What is virtual rape? Can I choose between being mentally retarded or keeping a brain upgrade that will kill me? Is my computerised assistant cheating on me?
It follows the classic legal show formula of each episode containing a Serious Case ("My cloned son is going to die") and a Silly Case ("She never told me she had an artificial penis"). The Serious Cases are a little less successfully told - to be frank the cast look as though they're having a hard time taking the concepts seriously.
The Silly Cases are much more easy to accept, and frequently joyous - a highlight is the 70 year old boy band, who are riven when one member refuses to have plastic surgery to keep looking 25. Yes, it does include a dance routine.
The show features some interesting cameos (yes, that really is Benson playing a judge!) and the interesting casting of our own Ioan Gruffud as a super smart lawyer.
Sadly, there's no real sense of evolving narrative in these few episodes. But it's slickly made, weirdly addictive, and it's nice to watch something that's genuinely fiction about science.
---
---