Win Simpsons goodies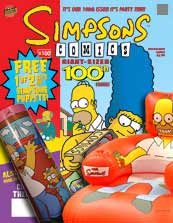 A Simpsons Comic subscription, Homer chair and more up for grabs.
It's the 100th issue of The Simpsons comic, and so we're giving away a bunch of Simpsons comic goodies - a year's subscription to the Simpsons comic, a poster, an inflatable Homer chair and a Homer standee.
For a chance to win these goodies, just answer the simple Simpsons question below:
What brand of beer does Homer Simpson drink?
A. Gruff Beer
B. Tuff Beer
C. Duff Beer
The competition closes on 13 December 2004.
Don't forget to check the Rules first.
So, tell us the answer.
---
---