Battlestar Galactica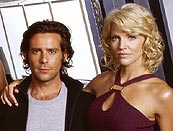 Review: Gaius converts to Cylon to save his soul.
Baltar is exposed when Number Six suddenly appears in person on the Galactica, accusing him of being a traitor in Six Degrees of Separation.
At last, a comedy episode. Well, almost. I expect the gallows humour surrounding the discovery of Baltar's crimes is the closest we're going to get. Still, at least it gives us a couple more jokes than 24 managed last season.
James Callis is in turns bemused, gutless and wonderfully devious as he tries to squirm his way out of the accusations facing him. In an unusual, if not unique scene, we get to see where Galactica's crew boldly go, as Baltar follows Lt. Gaeta to the toilets in a desperate attempt to get access to damaging photographic evidence.
This evidence leads me to my pet hate in sci fi - the amazing ability of boffins to enhance the back of someone's head taken from a fuzzy security camera image until it looks like the subject has spent the afternoon pouting for David Bailey.
Having Number Six (or one of her clones at least) actually arrive on Galactica also causes much amusement, with Baltar being introduced to a woman he assumes is only in his head and confusing everyone by acting as if she isn't there.
The episode does have a serious side, with its exploration of Cylon religion. Although the humans have more gods than a lesson in Greek mythology, Cylons believe that there's just the one, and Number Six seemingly engineers Baltar's downfall and subsequent salvation as a means to convince him of that. I'm sure if she'd just given him a copy of Cylon Watchtower he would have come around to the idea without further prompting.
Meanwhile on Caprica, Helo runs around a lot in the rain, getting utterly drenched as he tries to evade Cylon capture. You'd think he would have looted an umbrella by now. He'd better not blame us if he catches a chill.
---
---