Hitchhiker's newsletter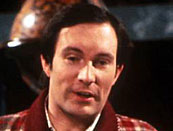 Radio 4 website helps bridge the gap before the next series.
The Tertiary Phase may have finished, but work has already started on adapting the last two books in the Hitchhiker trilogy (So Long and Thanks for All the Fish and Mostly Harmless).
The Quandary and Quintessential Phases won't be broadcast until May and June 2005, but if you can't wait fear not, for the Radio 4 Hitchhiker's site has launched a newsletter to help bridge the gap.
By subscribing, you can keep up-to-date with the production diary, recording sessions and casting details. Players of the Adventure Game will receive useful hints, and there will be news of related programmes on Radio 4 and BBC 7.
---
---