Sea of Souls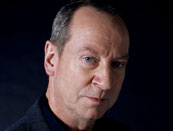 Return of the parapsychological series confirmed for January.
Sea of Souls, the drama involving the investigation of a parapsychology team, returns to BBC One on Saturday 8 January at 9pm.
According to the press releas: "Exploring the strange and unexplained, Dawn Steele and Iain Robertson join Bill Paterson to make up the new parapsychology team in the second series of Sea Of Souls.
Monaghan's two new assistants - PhD student and single mother Justine McManus and research fellow Craig Stevenson - are drawn into a world of restless poltergeists, deathly premonitions and psychic healers.
From the natural to the supernatural, the normal to the paranormal, the Sea Of Souls team attempts to explain the inexplicable.
Bill Paterson plays Monaghan, Dawn Steele plays Justine McManus and Iain Robertson plays Craig Stevenson.
The six-episode series, featuring three two-part storylines, also stars Nigel Terry, James Fleet, Barbara Flynn, Colin Salmon and John Hannah."
Episod two is on Sunday 9 January at 9pm.
---
---