Star Trek: Orginal Series 3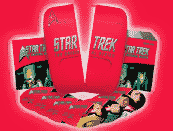 The last, and probably least, of the first series is out on DVD.
Although there are slightly fewer extras than the average for Trek on this release, there are still really quite enough, and there's a good reason for the shorter list. Not one, but two versions of The Cage are included, one being the pilot version complete with black and white recovered footage, and hilariously badly filmed top-and-tailing with Gene Roddenberry. Look out for the spooky camera angles!
Of the other extras, the best are the interview features and a nice little documentary on Trek collectibles that'll have viewers rooting through the attic for action-figure gold. Oh, and there's also an excellent production gallery, featuring many of Matt Jefferies set and prop designs.
Walter Koenig reveals himself to be a lovely man, who explains his collection of Chekov memorabilia as the product of "narcissism and obsessive compulsive disorder". George Takei talks very movingly about his work for the Japanese-American National Museum, and his experience of internment during the war - it's nothing to do with Trek, but great anyway.
James Doohan appears in a short but poignant feature, physically in a shocking state, but mentally still sharp. Unfortunately, this moving interview is near ruined by some of the most wildly inappropriate background music ever - eerie and creepy, as if something were wrong. What, like Doohan might die during the course of the interview?
This wasn't the only massive musical insensitivity - Nichelle Nichols amusing, if overlong, account of how the first TV interracial kiss came about was ruined by huge swirling wafts of orchestral uplift which were completely unnecessary and served to undermine what she was saying by making it sound trite.
Trite is a good way of describing the rest of the season three overview feature, which includes numerous fits of Roddenberry-worship, as well as Shatner explaining that he didn't have a cold while filming Trek. Interesting.
To be avoided at all costs is Star Trek's Impact, a feature in which Gene's son, Eugene "Rod" Roddenberry talks about how great his dad's work was in an insufferably smug way.
This is one for the fans really - a sickly sense of self-indulgence permeates some of the extras, and a bit more editing wouldn't have harmed a lot of them either. It's not a bad package, but it's not as good as it thinks it is either.
What of the actual episodes? Well, Spock's Brain is one of them.
---
---