Dead Zone interview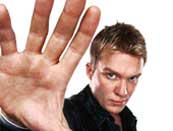 Anthony Michael Hall speaks about ESP and the Brat Pack.
Today's copy of the newspaper for commuters, Metro, features an interview with the star of Sci Fi Channel hit The Dead Zone.
Anthony revealed that he had had a few psychic moments, though "Nothing that significant: some little cases of ESP where I call my mother and she is on the phone trying to call me.
"I've done a lot of research into the psychic realm as part of the show and my personal inspiration is a guy called Edgar Cayce - they called him the Sleeping Prophet. He was a psychic and an empath like my character Johnny."
Anthony also explained why US TV is riding high right now.
"When I was a kid growing up in the industry, people seemed to scoff at TV actors - people thought they were too good for television. Ten or fifteen years later, you see all these film actors doing TV - people such as Martin Sheen in The West Wing, for instance. The lines have blurred and that has brought more quality."
A Dead Zone marathon is being shown on the Sci Fi Channel this weekend.
---
---