Two Mrs Overalls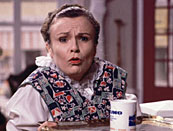 Wood and Walters will share Acorn Antiques: The Musical role.
Victoria Wood will take over the role made famous by Julie Walters for some of the performances of Acorn Antiques The Musical.
The show, penned by Wood, is based on a spoof soap opera that first featured in the series As Seen On TV, and opens at the Haymarket on 31 January 2005.
Some of the original cast will return for the limited six week season, including Duncan Preston (Mr Clifford) and Celia Imrie (Miss Babs), but Julie Walters will not play ancient cleaner Mrs Overall for all performances.
Fans should be happy with Wood's portrayal thoughl, says Wood. "It's [Julie's] performance, which I shall be copying - although I may get myself a different pinny.
"It was never my intention to be in it, but it seemed a good way of pleasing the audience and keeping the excitement.
"Eight shows a week of singing and dancing is a big undertaking for one person."
The musical, directed by Trevor Nunn, features Neil Morrissey as the director of a musical Acorn Antiques in a small theatre in Sutton Coldfield. When all goes wrong Mrs Overall get the chance to star in a proper musical in London's West End.
---
---