Television and charity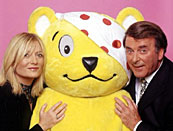 BBC Four's Time Shift strand looks at fundraising on the box.
Charity appeals have been part of the BBC's remit since day one.
Time Shift: Television and Charity traces the history of fundraising on the box, from the early days of annual Christmas collections for needy children, through the infamous Blue Peter bring and buy sales and junk collections, to the telethons of today.
There's also a look at how television helped create new charities - the drama Cathy Come Home led to the setting up of Shelter and Michael Buerk's Ethiopian news coverage spawned Live Aid and Comic Relief.
Contributors include Terry Wogan, Lenny Henry, Esther Rantzen and Michael Buerk, as well as Ben Jackson (Shelter) and Simon Gillespie (The Charity Commission).
Time Shift: Television and Charity is on BBC Four this Sunday, 12 December at 7.35pm.
---
---