Battlestar Galactica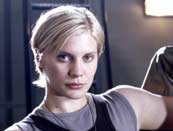 Review: An interrogation into humanity in Flesh and Blood.
Science fiction TV is usually regarded by the world at large as escapism, a bit of fun involving ray guns, explosions and silly clothes.
Certainly the old Battlestar Galactica fitted into this mold - but in this episode the new version shows itself far more interested in the big questions. When is torture allowable? What does it mean to be human?
A Cylon is discovered hiding in the fleet, and Starbuck is sent to interrogate him. Meanwhile, Boomer, determined to know, puts herself forward as the first test subject for Balthar's Cylon detector, while her copy starts to fall for Helo down on Capricia.
Clever cutting between the Capricia and interrogation scenes means we start out as repulsed by the Cylon spy as Starbuck. When she starts to torture him though, that identification with her suddenly becomes a problem.
Should we accept that such measures are acceptable, given the nature of the enemy and the number of people at stake? Or are we, by doing so, lessening our own humanity? As Number Six says, "In the scheme of things, we are as we do," - if we act like those we despise, are we really any better than them.
It's deep stuff, with clear real-life parallels to the treatment of terrorist suspects today. There's little escapism here, but it avoids the trap of worthiness by being so well written and directed that it grips you like a vice. Brilliant characterisation and acting means that you can't predict what the characters are going to do - but when they've done it, it feels exactly right.
In the end, Starbuck's interrogation is pointless - it achieves nothing for the safety of the fleet. But she learns a respect and an empathy for the Cylons that's perhaps more important than military secrets and plans - because it means she's retained her humanity.
Battlestar Galactica airs on Sky One at 8pm Mondays.
---
---