Christmas chillers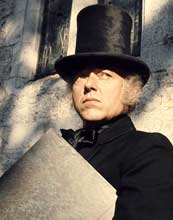 BBC Four are screening a season of MR James' spooky tales.
A Cambridge scholar, Montague Robert James would mark each Christmas Eve by reading a new ghost story to his friends. Whether he then crept up on them and shouted boo during the night is undocumented.
BBC Four are following in this tradition by showing four adaptations of his stories over the Crimbo period, plus a new documentary about his work.
The season runs as follows:
10pm 22 December - MR James documentary, featuring admirers such as Ruth Rendell.
10.30pm 22 December - Whistle And I'll Come To You, adapted by Jonathan Miller and starring Michael Horden. (1968)
11pm 23 December - The Treasure of Abbot Thomas, starring Michael Bryant. (1974)
11.30pm 24 December - A Warning To The Curious, starring Peter Vaughan (1972)
12.25am 26 December - The Stalls of Barchester, starring Robert Hardy (1971)
Meanwhile, if you've got your own spooky tale to tell, the Get Writing website are looking for budding MR James for their latest anthology. If you need inspiration, James fan Muriel Gray has set a phrase on the site to start imaginations racing.
Click on the links below to find out more about the season, or to submit your fevered gothic perorations to Get Writing.
---
---