Triffids and Nightmares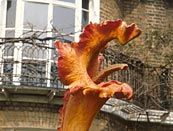 DVDs of two cult favourites confirmed.
We've lost count how many emails we've answered asking when the BBC 1981 dramatisation of Day of the Triffids is coming out on DVD.
Well, the wait could soon be over, as BBC Worldwide have confirmed the release of the series. The sentient flesh-eating plants will be stalking the Earth again on 4 April 2005.
Not only that, another cult favourite, The Nightmare Man, is also due for release on 7 February 2005.
Based on the 1978 book Children of Vodyanoi by David Wiltshire and adapted by Robert Holmes, The Nightmare Man tells the tale of a lonely Scottish island stalked by a brutal killer who may be from another world.
2005 is quickly shaping up to be a sci fi year thanks to BBC Worldwide - A Complete Quatermass box set is due for release on 4 April, alongside the Invisible Man and a release featuring The Flipside of Dominick Hide and Another Flip for Dominick .
---
---