TV on Trial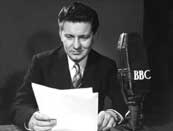 BBC Four to find TV's greatest decade.
As part of its Winter schedule, BBC Four will be try to pinpoint the golden era of broadcasting.
The event will include a week-long interactive series called TV on Trial. Over the week classic programmes and clips will be shown and two pundits - one for and one against - will comment on the decade in question.
A final vote will then name TV's golden age.
BBC Four controller Janice Hadlow said the series would pit some of broadcasting's "grumpy old men" against the "new kids on the TV block".
---
---