Browder for Stargate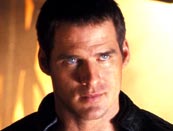 Ben Browder is to join Stargate SG-1. Expect ratings to soar.
The Sci Fi Channel has announced that the Farscape star will join the cast of Stargate for its ninth season.
No further details have been released as to what character he will play. But who cares, with those arms.
The producer of the show, MGM, are still trying to thrash out a deal to persuade Richard Dean Anderson to return as General O'Neill.
---
---