Dave Gibbons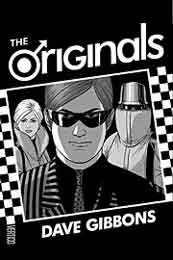 Interview: Comics legend chats about The Originals.
Best known for his work on Watchmen, Dave's latest project is a retro-futuristic tale of Mod-flavoured teenagers on floating scooters, The Originals, published by Titan Books.
How autobiographical is The Originals?
Quite autobiographical. I was a Mod, I did have the clothes, I did have the scooter, I did have the hair.
The names of some of the characters are names of friends I had at the time, some of whom I still have today, so it's a very personal story, but what I was trying to get over rather than the actuality of what happened was more the truth of how it felt. So, I'm not any of those characters, but I could have been in that gang.
How did you decide on the futuristic-retro look of the comic?
Well, the first time I ever saw a whole load of scooters, it was a bit like seeing the Martians land. I'd never seen anything like it before - it did have a bit of a science fiction quality to it.
I knew that if I just drew actual Lambrettas or Vespas it would be, "Oh, it's a scooter". So I thought, "What if they floated?" Also, as cynics have pointed out, it meant I didn't have to draw all those wheels.
I thought, if I make it clear that it isn't actually Britain in the 1960s, but it's very like it, that'll give me a tremendous licence, and it'll mean that I don't have to actually research.
Quadrophrenia was in a documentary sense very accurate, [but] that wasn't what I was interested in. I was interested in how it felt emotionally, viscerally, rather than what it really looked like. So I didn't set out to do a science fiction comic, but I wanted enough elements for you to look at it and go, "Hmmå we're not in Kansas anymore".
It's quite a harsh story, isn't it?
But you see, that's what can happen. I did want to get that feeling of things coming to an end.
I've got a fifteen year-old, and it all rang very true for her. Although she's not a Mod and everything's completely different, she identified with the truth of it. I think a lot of us, when we're young, go through things our parents would say are phases.
It goes from having left school and spraying on a wall, to actually killing someone in revenge. It is a bleak story, although I hope it's not bleak about human beings, and I do think that certainly the characters are not without redemption. I do think that Lel has the chance at the end to redeem himself, and clearly Viv is a very strong woman. And clearly they could have a very good life together – it's up to them. Well, it's up to Lel really.
Why did you chose to do it in black and white?
With major things I do, with Watchmen, and with The Originals, and with Martha Washington to an extent, I like to give them an individual and unique look. I think with Watchmen you could look at any page of it, without any word balloons, even upside down across the room and recognize it, and I wanted to do the same sort of thing with The Originals.
I hit upon the idea of black and white because it gives it that kind of retro feel, it does also give it a documentary feel, and a somewhat bleak feel. Plus, I've always liked black and white comic artwork.
It also fitted very well with the notion I had of using op-art designs as the fashion fad. I can't imagine it being in colour. It's funny, my memories of those days are kind of black and white, although some Mod stuff was very colourful - I used to have a red leather coat.
Do you still hate Greasers?
Oh absolutely! Completely! That was one of the things that first keyed me into it, because if I see a guy on a motorbike, like I'm in my car and somebody goes past in a leather on a motorbike, what comes into my head, even if I don't say it, is û***ing Greaseú and I want to knock þem off or something like that.
That made me think, "This is irrational." I like to think that I'm not a man with prejudices, and I thought, "Why do I still feel this extreme prejudice?" That was one of the things that made me think, well, maybe I can still write about this with some passion.
I think what's at the root of it is that what I like about Mod, is that it's quite subtle, and quite hidden. There was a rebellion going on, and an individualisation going on that wasn't obvious to parents and to society at large.
But if you've got long greasy hair and you wear a leather jacket, you're going, ûHey, look at me, I'm a rebel, I'm different.ú That's such an obvious thing to do, that's so banal and so, "Oh look at you, you're such a rebel". I think that's what I basically despise about it.
That's what I think lies at the heart of my dislike of the Grease. They're holding onto something that was fifteen years old by the time the Mods came along, Marlon Brando in The Wild Bunch, that American biker look that was long dead. And there was a lot of antagonism because they would taunt Mods by going, "Oy, you ****ing queers", whereas the fact was that the sort of girls I wanted to associate with generally found the sort of guy who'd had a wash and combed his hair and was wearing clean clothes to be more attractive than a guy with a leather jacket and a pair of greasy jeans.
The funny thing is, I have found myself saying a lot in the past few weeks about, ûI was a Mod,ú I never would have used the word Mod at the time. In fact one of my mates was called Mick the Mod just because he did actually embarrass himself one time by announcing one night, to a copper who asked us where we were going, "Oh, we're going up to London, because we're Mods." God, how embarrasing.
Nowadays it's all so fragmented. In those times you were a grease or you were a mod. It was a black or white thing. But nowadays, god knows. One of the issues that my stepdaughter took up with me, who doesn't like motorbikes, but does like to wear a leather jacket and likes metal music was, why have you got it in for leather jackets? Which was another reason why I wanted to set it in my own experience, because I believe that my own experience was kind of universal, rather than do the awful thing of being a middle-aged guy trying to get down with the kids of today.
Hopefully, if I'm proud of anything in the Originals, it's that hopefully there's a sort of truth in it.
---
---