Star Trek: Generations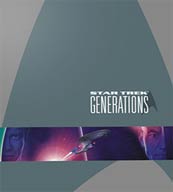 Review: It's the special edition of the one where Kirk dies.
Corset-lovers rejoice! Star Trek: Generations is being re-released on DVD in one of those super-duper extra special editions.
In fact, this release really does deliver on the extras. There are absolutely masses of them - almost too many, in fact.
Some are great, like the deleted scenes (I like watching Kirk doing orbital skydiving as the next geek), and production featurettes (like how the whizzy Stellar Cartography scene was done, complete with wry comments from Patrick Stewart). There's a nice tribute to Original Series designer Matt Jefferies (although, given the context, a date caption on the footage of him might have been a good idea).
As usual, the effects get simply masses of coverage. Now, don't get me wrong, I like watching a model Enterprise crashed into a gravel-covered office carpet as much as the next geek, but there's so much of it! After the third or fourth effects extravaganza, I was imagining the SFX guys forcing the film crew to interview them at batleth point.
Speaking of batleths brings me to Creating 24th Century Weapons. Now, I like a ridiculous replica Klingon knife as much as the next geek, but I didn't need a fifteen minute documentary about the bloke who makes them. And unless you're deeply interested in milling machines, neither do you. An excess of dull, tangential extras like this bring the overall quality of this release down.
Still, it's hardly a damning indictment to say that a DVD has too many extras, and this release is sure to please all hardened Trek fans. Even those with more of a passing interest are sure to like the snazzy, Stellar Cartography-based menu at least, and the film isn't too bad either.
---
---