Nebulous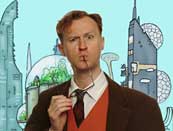 New Radio 4 comedy with Mark Gatiss and David Warner.
Starting this Thursday at 11pm on Radio 4 is a new futuristic comedy written by Graham Duff (Dr Terrible's House Of Horrible) and starring Mark Gatiss (League of Gentleman) and David Warner (Star Trek).
"The year is 2099 and, in a post-apocalyptic England, things will never be the same again. Cattle-clasm has wiped out the majority of the livestock, the year has been restructured to include new months such as Octember and Janril, and there's even a new season: Hamble, which falls between spring and summer and is generally drizzly.
Professor Nebulous (Mark Gatiss), a brilliant, if eccentric eco-conscious scientist, is determined to get Mother Earth back on the right track. Nebulous runs an eco-troubleshooting organisation called K.E.N.T., but sadly it's so woefully under-funded that they have to subsidise their work by running a launderette."
Nebulous also stars Graham Crowden, Paul Putner, Rosie Cavaliero, Julia Dalkin, Matt Wolf and Nick Briggs.
For an interview with writer Graham Duff, click on the link below (Adobe PDF format).
---
---