Tripods film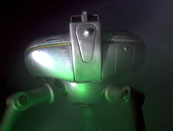 Disney plan to film John Christopher's trilogy.
The mouse house has announced it plans to exercise its option to produce a movie version of The Tripods, John Christopher's science fiction trilogy.
The novels - The White Mountains, The City of Gold and Lead and The Pool of Fire - follow the adventures of young lad Will and chums, who flee an occupied England to escape the capping ritual, inflicted on youngsters by the mysterious Tripods - three-legged metal meanies.
Disney have held the rights since 1987. Now, Gregor Jordan has been assigned to direct and take on scripting duties, but it is not known if a single film or a trilogy is planned.
The first two books were adapted and broadcast by the BBC in 1984 and 1985 with John Shackley in the role of Will. Much to the consternation of fans, plans to film the third book were never realised.
---
---