New Souls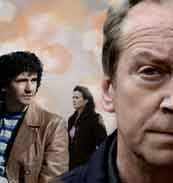 Two new recrtuits to the unit talk about Sea of Souls.
The second series of Sea of Souls begins this weekend, with a new two-part tale on Saturday and Sunday night at 9pm.
Returning as Dr Douglas Monaghan, Clyde University's head of parapsychology unit is Bill Paterson, but joining him are two new recruits, played by Dawn Steele and Iain Robertson.
Steele plays Justine McManus, who joins the unit as a post-graduate psychology student and is determined to prove her worth. Justine also has a secret skill.
"She has visions which she never mentions to anyone else and I love that aspect of her character," says Steele. "I think it gives her a bit more mystery – there are so many dimensions to her."
"We shot the second episode in an old disused ironworks at night, which was just horrible. That was a really spooky place," says Steele.
"When you're filming the kinds of scenes where the subject matter is quite disturbing and you're somewhere as vast and eerie as that, you can't help but get a shiver down your spine. I was like, 'I want my mum – now!'"
Iain Robertson plays Craig Stevenson. Somewhat of an obsessive, he has longed to join Monaghan's department, but now he's finding the challenge a bit daunting.
"Craig thinks he's the cock of the walk," says Iain Robertson. "He's been desperate to work in this department for as long as he can remember. Monaghan is, to an extent, both a hero and a father figure to him. So this has been a serious ambition of his to be here. He [now] reckons he knows it all and desperately wants to impress Monaghan and make his mark."
But whilst he is fiercely intelligent, he is somewhat lacking emotionally.
"He's very abrupt and sometimes thinks he's funny when, in fact, he is the furthest thing from funny he could possibly be. Craig can be very rude and I don't think he's the sort of guy who knows how to say sorry. He views the people he encounters as merely case studies for him to further his research. He doesn't see them as people."
Sea of Souls returns to BBC One on Saturday 8 January at 9pm.
---
---