Star Trek stalled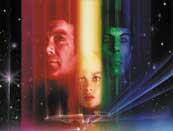 Plans for an eleventh film have hit a problem.
Various sites have picked up on the news that Rick Berman's script, a prequel to all that's gone before, has been rejected by Paramount.
The Movie Reporter site reports that they were "told that Paramount was not happy with the direction that the story was headed and that it's not completely cancelled but that they are reworking a few things and that to be rest assured, Star Trek will never be totally cancelled".
Apparently, according to the site's source, the script went boldly where no Trek film has gone before - rather too far for Paramount executives who want some familiarity to aid promotion of the movie.
---
---