Voyager Five DVD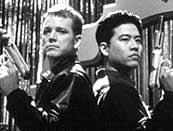 Review: Time to shovel another shelfload of VHSs onto the fire.
Voyager season five, out this week, is definitely one of the better seasons overall, but it's still as spotty as a Talaxian skin graft.
The highlights, like Flash Gordon homage Bride of Chaotica and romantic doublecross drama Counterpoint are genuinely worthy of the name. But the the low points, like 23:59, in which Janeway does a bit of dull amateur genealogy, or Once Upon a Time, in which Neelix dies, but is unfortunately brought back to life, are very, very low. Discernment is required when watching.
There are far fewer extras on this release than usual for a Trek DVD, but that's no real loss given the over-long nonsense usually offered up as "special features" on these sets. This time round, almost every feature is worth the time to watch it, apart from the inevitable trailers for other Trek box sets. Paramount, wake up! An advert for some other tat you're flogging is NOT an extra!
So what do you get here? Well, there's a well put-together Season Five overview with a lot of decent contemporary interview footage and detailed examination of a few key episodes. Two "Time Capsules" take a look at Tom Paris and B'lanna - hardly my favourite characters, but these features are surprisingly engaging, especially the trivia snippet that Robert MacNeil suffered burnt buttocks during the filming of Bride of Chaotica. I almost felt like giving B'lanna another chance after seeing Roxanne Dawson discuss the character - just so long as I don't have to watch Day of Honour again.
A look at Delta quadrant make-up reveals that early Kazon wigs were made of pigs' ears, and also that Michael Westmore has a "bag of teeth" that he's saved from various jobs. Lovely. You'll also learn quite a lot about Chakotay's forehead from this enjoyable feature. Then there's Ships of the Delta Quadrant - a slightly repetitive look at the design of erå ships of the Delta Quadrant, which starts with an amusing montage of Voyager shuttles blowing up.
Last and least is the feature Borg Queen Speaks, which should really have been titled A Borg Queen Speaks, as this is an interview with Season Five Queen Susannah Thompson, not original and best Alice Krige.
Throw in five easter eggs, and nice, shuttle-based menus, and you've a nice little package here - plus a whole load more storage space.
---
---