Briefly beaming down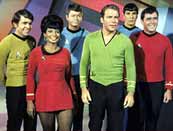 Correction: BBC2 to air Where No Man Has Gone Before.
We on Cult try not to get it wrong, but when we do we hold our hand up. And we got it wrong about Star Trek: The Original Series screenings.
Sadly, BBC2 will only be airing one episode, Where No Man Has Gone Before, which will go out on 15 January at 1.30pm. It's been picked to accompany science documentary Mission To Titan. Sorry.
Saturdays on BBC Two are a still bit of a cult corner though, with screenings of Monk and The Return of Sherlock Holmes part of the line-up.
For all things Trek visit our website devoted to the show where you can enter a competion to win Voyager series five on DVD.
---
---