24 cast comebacks?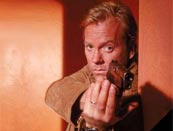 Spoiler: 'Sacked' stars will return in season four.
Fans concerned that a massive cast cull would turn the new season of 24 from an impressive ensemble piece into The Jack and Chloe Show can breathe a sigh of relief.
According to E!Online's gossip queen Kristin, plenty of old favourites are negotiating their return. At a recent Hollywood party to launch season four, Reiko Aylesworth (Michelle) and Carlos Bernard (Tony) confessed to her that deals for an unspecified number of episodes had been struck.
Best news is that scheming supervixen Sherry Palmer, aka Penny Johnson Jerald, may turn out to be bullet-proof. "I did not let them kill me, I let them shoot me," noted Penny. "If you watch really carefully, I was breathing on that floor!"
New additions to the cast include Alberta Watson, playing Jack's new boss, Erin Driscoll, and the wonderfully named Kim Raver, who reportedly sizzles as Jack's new love, Audrey Heller.
But what about ditzy Kim, played by Elisha Cuthbert? According to Keifer Sutherland, the character doesn't feature at the start of the series. But would an appearance later in the day be on the cards? "I'd be shot if I told you, so I can't say," laughed the actor.
Season four of 24 begins on Sky One on 30 January 2004. The BBC has no plans to screen this or previous seasons of the show.
---
---