Pleasant news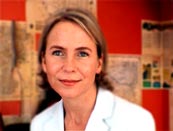 Killer bees but no nudity in new cult show.
With her new genre series Point Pleasant starting on both sides of the Atlantic shortly, creator/producer Marti Noxon spoke to the New York Times about the censorship issues it has faced.
"When we actually tried to show a character's naked back, just the back of a woman in a pool, the censors told us we couldn't show it at first. And then we compromised on however many seconds we could show it. It didn't bother them that we were implying there was nasty sex going on in a swimming pool, it was just that you couldn't see her back! So that's just weird."
The show, dubbed "The O.C. meets The Omen", faced less problems with its horror content. "You can be really scary," notes Noxon with relish. "You can have people killed by bees, no problem. We haven't had one caution on scary stuff yet. I hope to have one."
As well as six years as Joss Whedon's second-in-command on Buffy the Vampire Slayer, Noxon also drew inspiration for the spooky series from childhood brushes with life after death.
"I had been very sick in my teenage years, and I had the white-light-tunnel thing in a dream. I don't know what that is, but it affected me deeply because I did start to get better after that... I had been anorexic for about five years. And I was really sick. I probably weighed about 70 pounds."
Point Pleasant begins on Fox in the US on 19 January 2005 and E4 in the UK on 26 January 2005.
---
---