Twisted Tales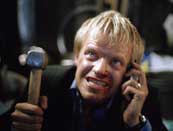 Interview: Nev Fountain, writer of new BBC Three comedy.
Starting this Sunday is Twisted Tales, a series of dark and stylish comedy plays by established and upcoming writers.
The first in the series, txt msg rcvd, is written by Nev Fountain and Tom Jamieson the lead writers on Dead Ringers.
txt msg rcvd stars Marc Warren (Hustle) as Alex, alongside Nick Frost (Spaced and Shaun of the Dead) as Keith, Zoe Telford (Absolute Power) as Davina and Bonnie Engstrom (The Book Group) as Janet, and Paul McGann (Withnail & I and Dr Who).
We caught up with Nev Fountain and asked him about the episode.
What can you tell us about your Twisted Tale?
It's about a loud workaholic not-very-nice man who trains people up to work in call centres and runs his life via mobile phone. He rushes all over the country, he's cheating on his wife, and he's unpleasant to his trainees, but by and large his life runs pretty smoothly... Until...
What inspired you to write it?
Well Tom and I suggested a number of ideas for this series, but we wanted to do something very contemporary - a scary tale that couldn't have been done, say 20 years ago. There seems to be a lot more frightening things you can do to people at a distance now than ever before.
It's true the world is getting smaller, but not always in a good way! If you wanted to plan revenge on someone in the past you'd stick a banana in their exhaust pipe. Nowadays if it's revenge you're after, you can book strippers to invade their workspace, order ridiculous objects to be delivered to their door, hook their e-mail up to companies so they get deluged with spam, and for the final insult, use their credit card to fund it all. It's a scary invisible world with scary invisible people out there!
Is this your revenge against annoying mobile phone users?
Oh, not really, it's more a warning about dependence on technology. The fact that the guy in txt msg rcvd is your typical phone a******* is interesting, because rather than a 'ha ha! Gotcha!' type of response, as the story unfolds, I think your sympathy for him grows.
Have you had any strange messages sent to your mobile? Or any that had weird consequences?
Don't you always get that occasional message from someone who knows you, but as you haven't programmed their number into your phone, you have no idea who they are? And you have a matey text conversation with them but all the time not knowing who the hell you're texting to?
Just me, then!
Did you have any say in the casting?
We made casting suggestions, and happily the director Andy Goddard and Producer Arabella McGuigan were definitely on our wavelength. We were delighted with the cast we got.
Marc Warren is fantastic. He's the guy who gives it all he's got – the type of actor who turns a good part into a great part. Nick Frost is brilliant, a naturally funny man, very intuitive and very creative. All the cast, even the minor parts, were spot on. I can't fault a single performance.
Is there anything that didn't make it to the final edit?
Not really. The script came down quite a bit before shooting – we did a lot of cutting to keep it to time. Our producer was very keen to take a filmable script up to shoot in Manchester, and not have to slice and dice in the edit suite, which is never satisfactory.
Was anything cut? Hmm. There was a lovely little moment near the end when our protagonist in a blaze of fury breaks into a garden shed with deadly purpose, ratcheting up the drama, and then realises there's nothing in it, and then has to break into the shed next to it! Very funny. But apart from that, nothing significant as I can recall.
Do you prefer writing sketches or whole episodes?
That's a huge question. I love writing sketches for Dead Ringers, and Tom and I work really well on that, but we have done it for all of our professional lives, and any chance to write long form stuff and break that 'two minute barrier' is very exciting for us. It's like larking about in a bigger playground, and we really pull out all the stops to make it work.
We were very proud of our Radio 4 sitcom Elephants to Catch Eels, and we're very proud of this. Dead Ringers is very much our sense of humour and we'll always enjoy writing for it as long as it continues, but our ultimate goal is to come up with a really big mainstream sitcom or comedy-drama that we can both be proud of, and can really shape in the long term.
Twisted Tales is on Sunday 16 Jan at 10.30pm on BBC Three, repeated Tuesday 18 January at 11.30pm.
Further Twisted Tales feature some familiar cult names - Paul Darrow (Avon from Blake's Seven), Mark Benton (Early Doors, new Doctor Who), Philip Olivier (Brookside), Mary Tamm (Doctor Who companion Romana), Annette Badland (Bergerac, new Doctor Who), and Alison Steadman (credits too numerous to mention)
---
---