Spock in the dock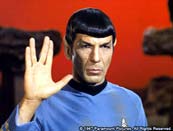 A Mr Spock impersonator has been beamed down to a court.
It seems you can take your love of a television programme too far - The Metro reports that Star Trek fan Roy Ives has been taken to court for terrorising his neighbours.
Ronald and Kathleen Moore noticed that things were a bit odd when their new neighbour kept turning up on their doorstep dressed as his hero Spock, complete with pointy ears.
"When we first moved in he was a nice guy. Every time he dressed up as Spock he used to show us - he really did look like him. But after a while it was terrible... every time I left the house he shouted 'piggy'."
Appearing in Birmingham Crown Court, Ives decided to forgo his ears, but he couldn't resist giving the Vulcan salute.
He admitted harassment and was given a two-year conditional discharge. He has since been rehoused, we just hope it's near the guy that owns a flat refurbished to look like the Original Series bridge.
---
---