Brum vamp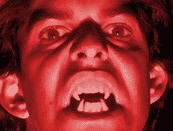 Rumours abound that a vampire is stalking Birmingham.
The Guardian reports that for the last month a man has been seen stalking the streets of Birmingham's Ward End district.
Apparently, a man sunk his teeth into a number of people when they came to the aid of a man he was snacking on.
The West Midlands police are sceptical that a vampire has come to Birmingham.
"To date we have not received any reports from people stating they have been bitten. This appears to be an urban myth," a spokesperson told the Birmingham Evening Mail.
But local pub worker Josephine McNally is nervous none-the-less. "All I've heard is that there's a fellow who is going round attacking people like a dog and biting them," she said. "It does put the wind up you."
If you are planning a journey to Birmingham it may be best to stock up on garlic just in case. Ooh, and olives, ciabatta and polenta.
---
---