Family Guy on the BBC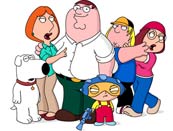 BBC Two buy into evil baby. US airdate announced.
Popular animated series Family Guy has been bought by the BBC for transmission in 2005, although an exact start date has yet to be announced.
Meanwhile, after three years in the TV wilderness, a full season of new episodes will debut on American screens, starting on 1 May 2005.
The series, resurrected by Fox after spectacular DVD sales, will be paired in the US with creator Seth MacFarlane's new animated show, American Dad. This tells the story of Stan Smith, an excessively gung-ho CIA agent who tends to bring his work home with him.
Family Guy sold a staggering 3.5 million copies on DVD, and is seen by some as part of a trend to resurrect cult favourites based purely on their popularity on disc. A film based on Firefly, another cancelled Fox show, was green-lit partly because of enormous DVD sales too.
---
---