Marti wants Marsters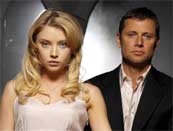 Will the Spike star be moving to new show Point Pleasant?
Speaking at the Fox winter press preview, ex-Buffy producer Marti Noxon told reporters that she'd love to get James Marsters onto her new show.
"We've been talking to him," she said, noting that he wouldn't be the first Buffy alumnus to move onto Point Pleasant. "Adam Busch, who was on Buffy as one of the super nerds, has a small role right now."
Point Pleasant, about the trials of Christina, a teenager who is the daughter of Satan, was described by Noxon as "Tonally... so different from Buffy." She added that the show, set in a small town where Christina washes up, will "be leaning even a little bit more toward Twin Peaks," after the first few episodes.
Point Pleasant begins airing the UK on 26 January on E4.
---
---