Battlestar Galactica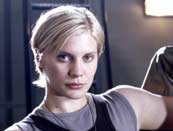 Review: The President finds religion in Kobol's Last Gleaming part one.
Galactica gains a mythic dimension this week when a life-supporting planet is discovered - and a vision convinces the President that it is the legendary Kobol. Pushed by a new faith in the stories of the gods, she convinces Starbuck to head back to Caprica to retrieve a holy relic.
Meanwhile, Baltar is finding that breaking up is hard to do when your lover lives inside your head, and Boomer can't quite say goodbye cruel world. Especially on Caprica, where, however many times Helo shoots her, she just keeps coming back.
In an episode that was itself standout, in a series that is itself standout, two things particularly struck me. One was the depth James Callis brought to Baltar when he movingly convinced the distraught Boomer that suicide was her only option. To me this was one of the saddest, and most shocking TV moments ever.
The second was how strong a sense that the people on screen had their own belief system, their own history and organisations. It was like being an anthropologist seeing just a small part of an ancient culture, not like being a Star Trek viewer presented with another Alien Of The Week.
It's sci fi produced like a prestige drama, so good that you wouldn't be tempted to flip channels even if Jonathan Miller walked into the room while you were watching it. Unlike most sci fi, Galactica doesn't need any excuses made for it. It's not "really good plot, but..." or "great effects, but..." There's nothing "but" in it, from the CGI, through the character development, to the direction, everything is perfect.
Battlestar Galactica is shown on Sky One at 8pm on Mondays.
---
---