Tru reason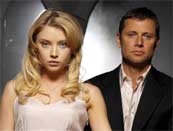 Point Pleasant named as reason Tru Calling won't be coming back.
The president of entertainment at Fox, Gail Berman, has confirmed that Tru Calling has been cancelled, but there's good news for fans - six unaired episodes will be shown at some point.
"We finished six episodes of Tru Calling, and we anticipate putting them on air at some point," Berman told reporters.
Berman went on to say that new show Point Pleasant was a contributing factor for Tru Calling's demise.
"What changed for us was when we saw Point Pleasant, we really felt we had a show that was incredibly compatible with The O.C.," Berman said. "So our thoughts changed, not so much about Tru Calling, but the possibility of not only having an exciting show and a winner at 8 o'clock, but also something that could really make headway for us at 9 o'clock in an incredibly competitive time period."
You can soon judge for yourselves whether Point Pleasant is the better show - it's starts on E4 on 26 January 2005.
---
---