Companionable Smallville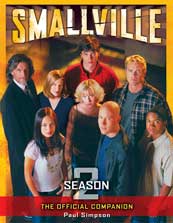 A second official companion to Smallville comes out in March.
Written by veteran TV guide author Paul Simpson, Smallville: The Official Companion season two will be published by Titan Books on 25 March.
As well as the usual episode guide and behind-the-scenes details, this companion also includes interviews with all the stars of the show, plus clippings and comment from Smallville high school paper The Torch.
We're sure there'll be plenty of pics of the lovely Mr Welling too - hopefully including some where he's accidentally lost his shirt somehow.
Smallville season four starts airing on E4 on Monday 24 January at 9pm.
---
---