Tim's triple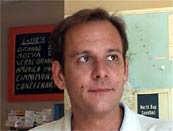 It's all happening for the former Angel producer.
Tim Minear is currently enjoying a triple bill of cult joy, with a new series, film script and much-anticipated DVD release all on the go.
This autumn Tim was brought in by Fox Television to retool The Inside, originally planned to be a bit like Alias, but without the wigs. According to Ain't it Cool News, Minear was asked to write a new pilot script to replace the rather dull original, while keeping the premise of a federal agent undercover as a high-school girl. Tim, however, had other ideas.
"I agreed to do it if they let me dump the premise. The Inside is totally retooled. It's less 21 Jump Street and more Silence of the Lambs. [The old concept was] really good for an episode of a show, not a whole series... You can have an X-Files episode about repeating a day, but you don't want to see Mulder doing that every week. Hence the overburdened concept of Tru Calling, for instance. [Lead character] Rebecca will go undercover when I need or want her to."
As a bonus for cult fans, Firefly and Angel's Adam Baldwin has just joined the regular cast and Jane Espenson will be scripting episodes too.
Meanwhile, Tim is still working on the scripts for his big screen adaptation of Robert A. Heinlein's classic SF novel The Moon Is a Harsh Mistress. "I just actually turned in my next pass at it," he told Sci Fi Wire. "[It's] very difficult to adapt... I kept a lot more from the book than people may have expected... The book is very old and it feels like it's been cannibalized by so many other films and books and comics or whatever."
Finally, we're only days away from the US DVD release of Wonderfalls, Tim's cruelly cancelled cult comedy (and possibly Cult's favourite show of 2004) about a girl bossed around by inanimate objects. Although only four episodes were screened before the plug was pulled, all 13 will feature on the three-disc set due out on 1 February 2005.
---
---