Smallville returns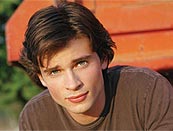 The fourth season of Smallville begins tonight on E4.
The last series ended, you may recall, with Clark making contact with his real father, Jor-El, only to return to Smallville to find his parents' homestead burnt to the ground and a number of his friends feared dead.
One such person is Chloe, whose fate remains something of a mystery at the start of season four. Enter her cousin, Lois Lane who is just as determined to get to the truth as Clark. Sparks do fly.
Elsewhere, Lex is determined that his dad should suffer in jail for trying to poison him. Could being the head of LuthorCorp corrupt him?
Smallville begins tonight at 9pm on E4.
---
---