Battlestar Galactica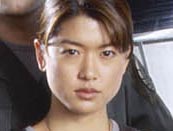 Review: Galactica's finale provides everything except answers.
Ron Moore must have been one very confident man when he plotted out the arc of this series. This episode is assured, intense and gripping, but leaves more unanswered questions than a politician on Newsnight.
Will Adama survive? Is the President bonkers? What did Baltar see? And why did the Cylons have to go to such extreme lengths just so one of them could get knocked up? Thank the gods that another six episodes at least have already been commissioned.
Most US programmes have an A and a B story. Here we had Baltar on Kobol experiencing serene, mystic visions of human past and Cylon future in the midst of death, while up in the fleet, Adama and the President faced off in an tense political drama that tests Apollo's loyalties to the limit.
But Galactica went not one, but two better, adding in story strands C and D. Boomer, of all people, is picked to destroy the Cylon base ship. After running the gauntlet of its meaty, gutlike interior, and an eerie horde of zealot-eyed Sharon models she succeeds in annihilating the ship in the best space explosion on screen ever.
Meanwhile, under Caprica's golden light, Starbuck fights for her life with Number Six, as Helo copes with the thought of becoming father to a half-Cylon.
Enough action for you? Had enough surprises? Well, tough, because this episode has one more. Seconds from the end, Boomer shoots Adama, in a scene so harsh and shocking it was like watching a murder in the street.
And there it ends, for the time being. Can we have some more please, Mr Moore? Soon if you can manage it.
Send us your comment now. We'll publish the best on this page.
Jason
Quite simply the best sci-fi since Babylon 5,with similar interconnected storylines that may be frustrating to the casual viewer,but rewards the die hard fans in spades!
Brunty
CAN I SAY MORE THEN BRING ON SEASON 2!!!! well don Ron Moore (SEASON 1 ROCKED)))
Sarge
OMFG! Well done, Mr. Moore, well done!
Larry Gerndt
I haven't been this excited about a series since Star Trek Next Generation. The writing is top notch, the direction is suspenseful, and the music/soundtrack is awesome as well. I don't know which gods convened to make this show, but I hope they keep it up.
jennnifer
Loved the original....obsessed with the remake. I thought I would hate all the changes, but the show has an absolute method to it's madness!!!
Chuck-in-Pasadena
I never imagined that "The Best of Both Worlds" (Picard becomes Borg)would lose it's crown as best sci-fi episode ever. Well, the king is dead. Long live BSG. The finale left me gasping for more.
dyuken
I am an old school Galactican and man NO ONE WOULD EVER HAVE EXPECTED how unparrelled this series is. It lends true credance to the term "SPACE OPERA". These guys have left any traces of the the pioneering 70's Galactica IN THE DUST. KUDO!!!!!!!!!!!
Phrank
What a great story. this series has such multi leveled Depth, the characters are SO HUMAN. i love that something has come along to breathe life back into the genre. good job Mr Moore
Leda
I've not enjoyed a series so much since the debut of The X-Files. The only bad thing about this show (except for the occasionally lacking music) is that we have to wait for a continuation.
Ete
Perfect... Strong story... Never ceases to surprise you! My personal #1 of all shows...
Stormy
I'd love to write something clever, but I love it..plain and simple.
Nick
Yep, this is a show with a truely multi-faceted plot and simultaneous steams of character development that provides a level of sophistication I have never seen in a SciFi before. I don't think even B5's far ranging plot was this detailed. However, they are two completely different epics. BSG doesn't give anything away yet immerses us in the immediacy of the stories which presents many possibilities. Just awesome. We simply cannot compare the old and the new bsg. Too much time has gone by. However, we do have a chance to be captivated again in the Cylon universe as adults and boy does BSG achieve just that. Love the camera work too. Excellent touch. I have read tho that some people get dizzy or cannot focus and hate it. I love it. I rekon Commander Adama is dead, shot by Boomer. But is it the Adama we think it is? The great thing about this show is that you cannot assume anything. We just don't know what is going on until next season! Bring it on!
Michael Lambert
This show was really terrific with great production design, good casting and a solid plot. The ending was however too puzzling and full of riddles. So the idea of further episodes seems comforting.
Crazie
I love the new series; mind you, I was a high school teenager when Lorne Greene was Adama; nah.. the new series is much better. Who can say no to No.6 & Boomer...phew! The part where Baltar is constantly day dreaming should be cut back though.
Chris
This series is awful... not a patch on the orginal.
Tony
Having been a Star Trek fan from the beginning BS has just blown that out of the airlock.Not since Buffy have we seen TV this good.
DaveWolf
Finally! A series that isn't just pretty, or with good characters/plots. This has it all and I can't wait for the 2nd series, or at least the 1st released on DVD.
Mike
Although I am a die hard fan of the original series, and I didn't think I could accept some of the more controversial changes I'm happy to say in a word... "AWESOME!"
Jesper
I was so scared they would let me down - and then they just pulled these 13 out of the hat. Best Scifi ever!
Sam C
Truley a modern masterpiece. The most all consuming sci fi for years, to not make a second , third and fourth series would be a travesty of justice. Now we are at seasons end it feels like i have lost a loved one. Frack me!
Mark Cuesta
Great series, darker than Satan's underpants. From the very first moments when the Cylons destroyed the space station to Adama streaming blood over the bridge this series has delivered in buckets.
Jose A
This re-interpretation of my all-time favorite TV show is a shining example of 21st century Sci-Fi artistry. All the new twists, both in plot and character development are infinitely engaging and light years (at least 5 or 6 jumps with a human FTL drive!) ahead of my childhood TV Galactica. More please...I really really need it! No really..I'm not kidding...
Saad
I started out loving the series but the last half has been terribly disappointing. What the hells going on with the President, and Starbuck and Apollo, they're nuts. The only sane person left on the show was Adama, seems they found a nice way to get rid of him!
andrew
just....redefines sci-fi on tv. Story and character drive this, the special effects are AMAZING yet not overstated (no gun sounds, no space ship sounds). My only problem is a weird ending and a slight lack of action, but I still rate it as 24 in space.
Maffa
More I tell you, I want more. How can they think of ending it like that. Great start to a new series, fell a bit in the middle, but a blinding last 2 episodes. How long do we have to wait???
Baltar
This is hands down the best television series I have ever seen! Finally, the sci-fi mould has been broken and something worth watching has been created. Bravo! Do I smell an Emmy? Fingers crossed that it will get picked up for at least another season.
Adrian Manic
Nothing was better than Star Trek... until now. This series has been amazing; any other sci-fi seems superficial, unrealistic and 'boring' compared to BS. They must continue production; I need to know what happens - I felt sick and shocked when Boomer ?murdered? Adama
ALLAN
This new battlestar Galatica has change the way i look at science fiction.And just as you think the crew of the galatica get a break there are none. A great show, please give us more MR MOORE!!!
Michael
Fantastic series, I've never been gripped to any TV programme like this before. The Acting, story arc, characters and Drama are Breathtaking not to mention the wonderful use of the best CGI for it's genre. We want season 2 So say we all!!!
Seth
Anticipation is the word, truly excellent mini series, come on when is the next series showing
Johanne
Stunning graphics, amazing story lines, very good acting!! Tense, thrilling and at times even humourous. The last episode was on the edge of your seat stuff. THE best si-fi show ever made!!!
Stewart
Far better than Far("The Muppet Show")scape. Realistic, proper science, grittier than "24"... Awesome!
Matt P
Love, love it, love it. Kept me entranced for 13 Monday nights and the finale left me stunned. More please
Penny
The cosy optimism of the sixties gave birth to Star Trek. Whilst great at the time it tends to grate now and Enterprise never fully grabs your attention. This is not something you can say about Battlestar. The best Sci-Fi reflects the concerns of it's time and boy does Battlestar deliver big time.
Fabrizzio
It's been a very long time since a tv series actually gripped me as this one did. That endind only left me thirsting for more. I wholeheartedly wish they get to develop several more series for such a great story.
Wayne
One of the best sci fi shows since Farscape. It had a real edge to it, looking forward to the new episodes.
Debbie
Best sci-fi for years. Has been unmissable since first part of the mini series. Want more - want it now!
Johnny
Was I watching the same programme? Completely pretentious twaddle with hammy performances and characters that failed to emote any sort of feeling from me.
Ian
Best Sci-fi TV show since Babylon 5. Drama and action by the bucket-load. And a story arc. If this series was any darker we'd need night vision glasses to watch it. Please sir, can we have some more?
Sam
Absolutely stunning. This series was a delight and this was the best episode yet!
Jason
Amazing. I am still shocked from that spectacular ending. Please make more.
Thank you for your comments. The BBC reserves the right to modify any messages before appearing on this web page.
---
---