Last Judge Dredd audio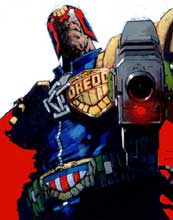 Big Finish's range of Dredd dramas goes out with a bang.
We're sad to announce that, due to declining sales, Solo will be the last release in Big Finish's 2000AD range.
It's a shame, as it sounds dead good - the credits list alone ranks amongst the most memorable ever, with Toby Longworth bagging a whopping 24 credits, plus the unforgettable strapline: "Other voices were provided by the member of the cast."
If you haven't heard a 2000AD audio drama, why not pop over to our comics site, where you can hear six of them on demand, including two with Simon Pegg as Johnny Alpha?
---
---