Sherlock Holmes set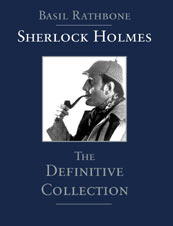 Basil Rathbone and Nigel Bruce Sherlock Holmes DVD.
Due out from Optimum on 31 January is a massive DVD box set containing all fourteen Holmes films starring the iconic pairing of Basil Rathbone as the Great Detective and Nigel Bruce as Dr Watson. That's nearly 1,000 minutes of material.
The films have been extensively restored, and include classic The Hound of the Baskervilles, plus a baker's dozen of less, er, canonical adventures for the sleuthing pair.
In the Voice of Terror (1942) for instance, Holmes takes on the Third Reich, while The Spider Woman (1944) has been described by Holmes expert Alan Barnes as like "a Sherlock Holmes movie on acid... a total joy."
The set also features production notes by expert Richard Valley on all the films, commentaries, photo gallery and restoration featurette.
The full list of films on the set is as follows:
The Hound of the Baskervilles (1939) (commentary by David Stuart Davies)
The Adventures of Sherlock Holmes (1939) (commentary by Richard Valley)
Sherlock Holmes and the Voice of Terror (1942)
Sherlock Holmes and the Secret Weapon (1942)
Sherlock Holmes in Washington (1943)
Sherlock Holmes Faces Death (1943) (commentary by David Stuart Davies)
Sherlock Holmes and the Spider Woman (1944)
The Scarlet Claw (1944) (commentary by David Stuart Davies)
The Pearl of Death (1944)
The House of Fear (1945)
The Woman in Green (1945) (commentary by David Stuart Davies)
Pursuit to Algiers (1945)
Terror by Night (1946)
Dressed to Kill (1946)
---
---