Newsnight at 25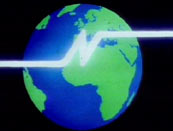 A quarter-century of hard news and tough grillings celebrated.
To mark the 25th anniversary of BBC2's flagship current affairs programme, Newsnight have launched a new site packed with archive footage and reminisces.
As well as top picks from the show's editors and a chance to watch Peter Snow present the first ever programme, there's also a selection of weird and wonderful moments when things didn't go quite right.
And you can read Jeremy Paxman's account of how it all gets put together - and how far the standards of BBC hospitality have fallen over the past 25 years.
"Once upon a time [our hospitality room] contained some passable canapés and a selection of drinks," he reveals. "Nowadays there may be a couple of bottles of Uzbekistan's finest Riesling and a plate of Monster Munch."
---
---